About BoE Stats Reporter – Your Bank of England Statistics Reporting Solution
Starting at the end of 2021, Statistical Data has to be supplied to the Bank of England in an XBRL (eXtensible Business Reporting Language) format which is increasingly becoming the standard for reporting regulatory financial information.
See our article on the subject for more information.
About FS Assist
FS Assist has been involved in producing financial regulatory reporting in Europe for over 20 years. We have created reporting solutions for insurance companies and pension funds to comply with the Solvency II and IORP II regimes, and our SII Assist software is one of the most widely used systems in Europe; used by over 400 companies across more than 20 countries.
Our new BoE Stats Reporter builds upon our Solvency II and IORP II experience to create a simple easy-to-use reporting package that complies with the new XBRL-based Statistical Data reporting.
Excel Integration
BoE Stats Reporter can be used as an entirely Excel based reporting solution or in combination with a lightweight application that your IT teams can integrate into your reporting process. This flexibility allows for the straightforward completion of the Statistical Data templates.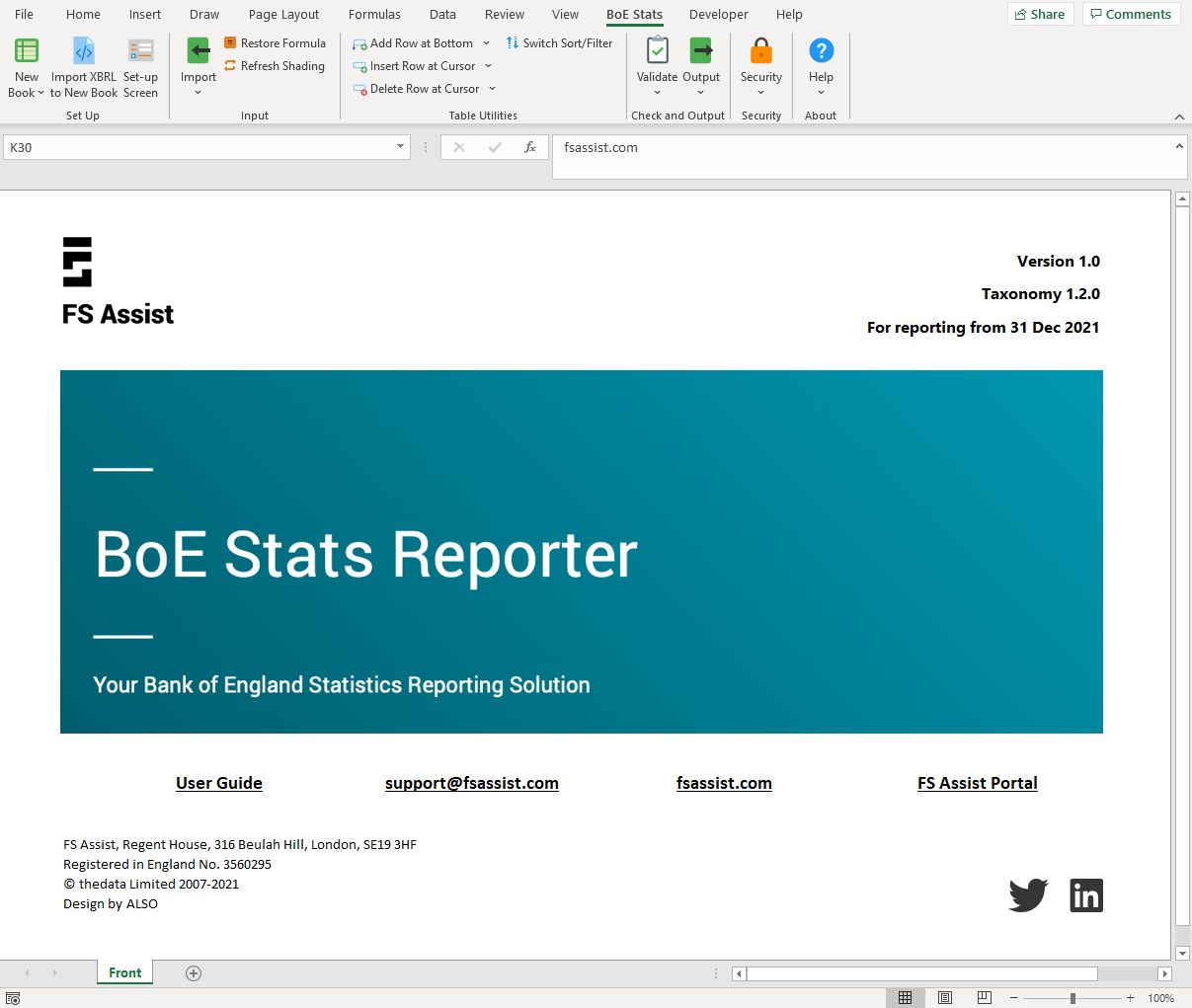 In order that you can see and edit your data in a familiar environment, we use standard Excel workbook files, so you can enjoy all of the standard functionality and ease of use of a conventional spreadsheet.
This means data can be entered in any form you wish, from simply typing in information, or you can copy/paste or link data into the reporting templates from other sources as required.
The Excel integration provides a quick and simple way of completing the new reports, with a minimum of IT overhead (all you need is a computer and a copy of Excel).
Alternatively, any part of the process can be integrated into an existing reporting process using the lightweight application which runs in all major operating environments.
Data Validation Checks
The published Bank of England Statistics taxonomy includes extensive data validation checks which need to be complied with. Moreover, XBRL reporting submissions require very high levels of data accuracy in order for a technically valid output to be created.
BoE Stats Reporter boasts a comprehensive set of validation tests, incorporating all of the regulator's compulsory checks along with numerous additional checks to ensure you file is correct and can be successfully uploaded to BEEDS without a problem.
Support and Assistance
BoE Stats Reporter has been designed to be extremely user friendly and intuitive to use, but in addition to this we prioritise outstanding customer support, training, updates and assistance – all as a standard part of the offering.
Ease of use, speed of completion and comprehensive training and customer support are the hallmarks of our solutions, which will make this the simplest way to complete your regulatory reporting.
Further information and a demonstration of the software can be arranged by our sales team.